Museum of Water began in the UK as a collection of individually sourced contributions of water that told stories of the people and places it came from, intimate and institutional reconsiderations of this precious substance. In this latest iteration, undertaken in collaboration with a collective of Indigenous artists in the place we now call Canada, the artwork strives to simultaneously acknowledge, sit with, move with, and evolve with the layers of past and present colonial history and contexts embedded within both the water and land we rely on for survival.
This sonic cyber un-mapping is an invitation to simultaneously enter into a conversation, and gesture towards building a collective capacity and stamina for action in support of and in service to water, precious water knowledges, and water access.
Responding to one of the most critical issues of our days, Museum of Water Ontario questions and cherishes the interconnections between the human and non-human worlds. The project will introduce an interactive and virtual experience in October 2021, which will grow and continue across 2022.
At this time, given the ongoing climate where this place now known as Canada continues to have non-generative relations with Indigenous peoples, the land, and the waters, the collective would like to encourage audiences to show their support by donating to the Indian Residential School Society.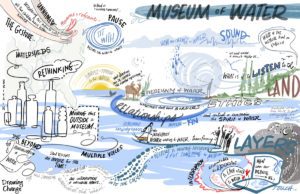 Image: Drawing Change
The Collective: Elwood Jimmy, Leslie McCue, Sara Roque, Amy Sharrocks
Producer: Alison Wong, Luminato
Production Assistant: Alisa Oleva
Artwork: Clara Peltier
Animation: Tone Davies, H28
Site Developers: Geomatics and Cartographic Research Centre: Brendan Billingsley, Amos Hayes, Rebekah Ingram, Matthew King, Peter Pulsifer
Additional Sound Contributors: Ko'khó:wa Horn-Kirby, Matthew King, Thohahènte
Um of Water is commissioned and presented by Luminato in partnership with the Geomatics and Cartographic Research Centre (Carleton University) and Artsadmin UK
Acknowledgements
Denise Bolduc, Mélissa Deschênes, De Plume Design, Drawing Change, Alex Rand, Murray Richardson, Mark Calzavara, Council of Canadians